Smackin' Acetate
By Katrina Merryman

Supply List:
White or Vanilla Card Stock
Acetate (Window Sheets, or Transparencies)
Water based dye ink Markers
Spray bottle of water
O'So Sticky Tape
Micro Beads
Stamps & Ink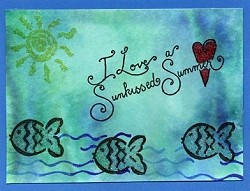 Directions:

Step 1:
Get out your sheet of acetate, aka window sheet, aka transparency. Pick several coordinating or analogous colors - or whatever you think will make a rockin', kickin' background.

Step 2:
Now, Smack the acetate around ... NOT!!!!!! Just kidding. Color on the acetate with the markers - liberally, trying not to overlap colors too much.

Step 3:
NOW smack the acetate around! NOT AGAIN!!!! Okay, so there's no actual smackin' involved. But hey, it sounded cool. So Step 3 would be to spritz the colored acetate liberally with your water sprayer.

Step 4:
Now take your card stock and press it into the wet ink on the acetate. You may have to experiment a little bit to get the exact look. If you are generous with the water you get nice soft blurred colors. If you use less you get more linear definition. It's up to you.

Step 5:
Now pull your wet cardstock off of the acetate and let dry. The you can stamp on it, bead the heck out of it, wall paper your bathroom with it, dress the kids in it - whatever works for you.

Note:
I forgot to mention that you just wipe the acetate off with a paper towel and you are good to go again. You can use the same sheet of acetate indefinitely.

Beauty and economy. My kind of technique.



Examples
Evelyn Spikes
Evelyn Spikes
Evelyn Spikes
Marianne Colschen
Marianne Colschen
Beth Ullman