Purse with Beaded Butterfly Clasp
By Sue Lorang

Supply List:
1 Cream color or pastel paper cut to 8 X 10
1 Printed paper cut to 8 X 8
Ink pads in Lilac & Violet (or colors to match your paper).
Decorative Stamp by PSX #B-1721 (or any stamp of your choice)
Butterfly Stamp by Stampcraft #440D77 (or any small stamp to use for the clasp).
Sentiment stamp of your choice
Markers in Lilac, Pink, Spring Green & Violet (or colors to match your paper)
16 in. of 1/8th inch ribbon
Clear PWA beads
O'So Sticky Tape
Velcro Square (cut in half)

Directions:
Step 1:
Fold cream Cardstock as shown in Diagram A. (The inside lines are shown as red in the diagram)

Step 2:
Cut Flap as shown in Diagram B1, B2 or your choice. (Cut along dotted line as color doesn't show in diagram)

Step 3:
Stamp purse flap and front of purse with Lt. Lavender and a decorative stamp.

Step 4:
Tape or glue ribbon on inside back of purse (close to the top) for the handle.

Step 5:
Fold flowered paper per Diagram C for inside of purse.

Step 6:
Stamp flowered paper with Sentiment stamp in violet.

Step 7:
Fold up bottom of purse.

Step 8:
Put adhesive on top back of folded flowered paper and slip folded flowered paper inside purse and stick down over ends of ribbon.

Step 9:
Open purse and put adhesive on top front of folded flowered paper, then close purse and press down.

Step 10:
Stamp Butterfly on white paper and color in with markers.

Step 11:
Put double sided tape over butterfly and cut out the butterfly.

Step 12:
Peel off tape, cover in clear beads, press beads into butterfly with an old brayer or something flat.

Step 13:
Stick butterfly to purse flap with Tacky glue or O'So sticky tape.

Step 14:
With two sides of Velcro together, peel off backing and put triangle under purse flap, then close flap to adhere to purse front under the flap.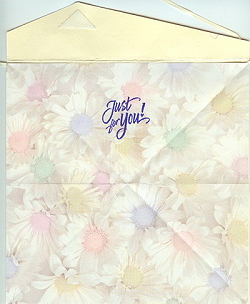 Step 15:
Optional: Tint edge of purse flap with violet marker.

Examples
Lisa Vice
Karen Gibson
Diane Walter aka M&M Di
Evelyn Spikes
Evelyn Spikes
Sue