Microscope Slide Ornaments, Necklaces or Pins
By Suzanne Glazier

Supply List:
Collage Sheets
Glass or Plastic Microscope Slides
Micro Beads
1/4" O'So Sticky Tape
Non Stick Scissors
Bead Storage Tray


Directions:
Step 1:
Prepare your beads by mixing desired colors together in a bead storage tray.

Step 2:
Cut out the images you wish to use.

Options to consider: Put two images (they can be the same or different) back to back for a two sided ornament or pendant. Or just use one image and put a magnet or pin on the back. Additionally you could use a collage sheet image on one side and a stamped image on the other.

Step 3:
For the purpose of this tutorial, two images are being used. Place the two images back to back between two glass slides.

Step 4:
Hold the slides together tightly and wrap 1/4" O'So Sticky Tape around the outside edge as shown. Keep the tape centered as much as possible and continue to wrap all the way around the slides.

Step 5:
The tape will overhang on both the front and back sides, press this down to complete the seal and then remove the liner.

Step 6:
Hold the slides in the middle (away from the exposed tape) and use the liner to press the corners down flat if necessary.

Step 7:
Press the exposed O'So Sticky Tape into the micro bead mixture until well coated. Use your fingers to firmly press the beads into the tape.

Step 8:
To create a hanger cut a piece of 1/4" O'So Sticky Tape to 1.5 inches in length. Attach one end to the front of the glass slide as shown at the edge of the previously beaded line.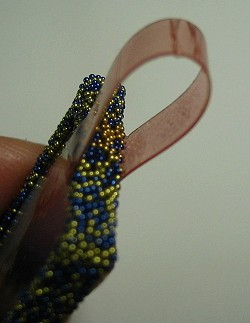 Step 9:
Loop the other end of the O'So Sticky Tape to the back of the slide as shown.

Step 10:
Bead the exposed tape on the inside of the loop first, then remove the red liner and bead the outside of the loop until covered. Use your fingers to press the beads firmly into the tape.

Note:
There are many creative options for putting hangers on your slides, instead of O'So Sticky Tape, you can use loops of cord or ribbon. Or try bending your own wire, use a Clipiola or a paper clip! It's fun to sandwich the ends of these things in between the glass slides before wrapping the edges with O'So. Play with your own ideas and have fun!

This versatile project can be interpreted many ways, not just as an ornament!

Micro beaded microscope slides are perfect for adorning greeting cards & ATCs.

You can make a one of as kind pin by attaching a pin back to your creation. You can also hang it from a chain for a fashionable necklace.

The possibilities are endless!

Examples
Yvonne Grimes
Yvonne Grimes
Yvonne Grimes
Yvonne Grimes
Yvonne Grimes
Yvonne Grimes
Melissa Baldwin

Evelyn Spikes
Marianne Colschen