Bottle Cap Beaded Matchboxes
By Terry Townsend

Supply List (for each matchbox):
Small Matchbox, painted
Uncrimped bottlecap
Photo/Image (1 inch round)
1 inch round paper punch
Pretty Tissue Paper
Modge Podge
O'So Sticky Tape
Clear Micro Beads
NOTES:
Paint your box(es) ahead of time and allow to dry. You can paint with acrylic paint, Lumiere, etc. Believe me, you will want to make several!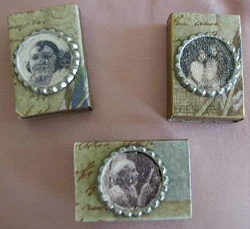 Directions:

Step 1:
Remove inside drawer from matchbox. Paint both pieces entirely.

Step 2:
Allow to dry completely.

Step 3:
Cut a piece of tissue paper or napkin to fit the top of the box.

Step 4:
Modge Podge the tissue paper to the top of the box.

Step 5:
Apply Modge Podge to top, bottom and sides of matchbox.

Step 6:
Place uncrimped bottlecap on a flat surface with inside pointing up.

Step 7:
Cover with a towel and bang with a rubber mallet until flattened.

Step 8:
Cut a photo into a circle with diameter of 1" to fit inside bottlecap.

Step 9:
Use Modge Podge to glue photo to bottlecap.

Step 10:
Cut O'So sticky into 1" circle.

Step 11:
Apply O'So sticky circle over photo.

Step 12:
Remove tape and bead.

Step 13:
Glue bottlecap to the top of the matchbox with Modge Podge.

Step 14:
Insert drawer into matchbox when dry.



Examples
Dianne Miller
Camela Gertner
Evelyn Spikes