Beaded Votive Wrap
By Suzanne Glazier

Supply List:
Paper Template and Punch Guide [HERE]
Colored Cardstock Paper (8 1/2" x 11")
Heavy Vellum Paper (Cut 4 pieces 2" square)
Square Punch - 1 1/2" Size or an Exacto knife and straight edge will work!
Rubber Stamps, Ink Pads, and/or Versamark Pad
Glass Votive Candle Holder & Tea Light Candle
O'So Sticky Tape Sheets (Cut four 2" squares)
O'So Sticky Tape 1/4" Roll
Glass Micro Beads - Clear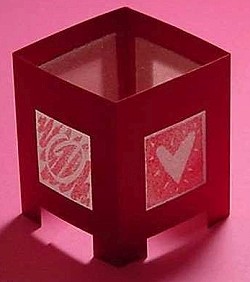 Directions:
Supplies


Step 1:
Cut Out The Paper Template and Punch Guide. Cut the colored cardstock to match the paper template and score the lines onto the cardstock as indicated on the punch guide. (Once you cut your paper template you no longer need that piece of the pattern).

Step 2:
This is how your colored cardstock should look!

Step 3:
This is the trickiest part but I know you can do it! Use removable double stick tape or paper clips to hold the punch guide to your cardstock. Your colored cardstock should be lined up behind the open (white) portion of the punch guide - see how it fits there? Once you have secured the punch guide to your cardstock you are ready to punch perfect square windows and feet! Turn your punch over so that you can see the black squares through the bottom of the punch. Line those up and punch it.

Step 4:
Cut four pieces of heavy vellum paper in 2" squares and stamp on them! These will take longer to dry - you can use a heat gun if necessary - but be careful not to scorch them! Stamp the outside of your lantern now too!

Step 5:
Cut FOUR 2" squares of O'So Sticky Tape Sheets. Peel one liner and place on the BACK side of each of the stamped vellum pieces. NOT over the top of your stamping - but on the BACK! Peel the second liners on each and bead with clear micro beads. Putting the beads on the back will make a pretty raindrop reflection on the vellum when your candle is lit!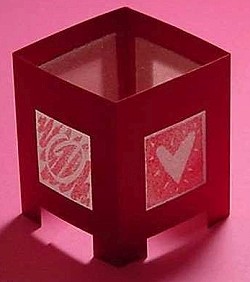 Step 6:
Using 1/4" O'So Sticky Tape, attach the vellum squares to the inside of the windows with the stamped side facing out - the beaded side facing the back.

Secure the tab with 1/4" O'So Sticky Tape, making sure that the tab edges are lined up evenly.

Place your lantern over a glass votive candle holder with a tea light candle inside. Light the candle, turn off the lights and enjoy your romantic creation!

Never leave burning candles unattended!

Examples
Suzanne
Suzanne
Beki
Beth
Yvonne
Yvonne