Beaded Slide Mount Cards
By Melissa Baldwin

Supply List:
White cardboard slide mounts
Clear micro beads
O'So Sticky tape sheets or 1/4" wide tape
Rubber stamps
Ink pads, any kind
Paper (optional)

Directions:
Step 1:
Stamp slide mount with design of your choice.

Step 2:
Cover slide mount with O'So Sticky Tape

Step 3:
Peel off tape liner and cover slide with micro beads

Step 4:
Pour excess beads back into container

Step 5:
Completed slide mount, ready to be adhered to a card, scrapbook page, altered book, or anything else you want to embellish.

Alternate Idea
Step 1:
Ink slide mount or cover with paper.

Alternate Idea
Step 2:
Follow steps 2 through 4 of first example

Alternate Idea
Step 3:
Use completed slide as an embellishment

Examples
Footprints
Evelyn
Denise
Connie
Connie
Lisa
Kathy
Kathy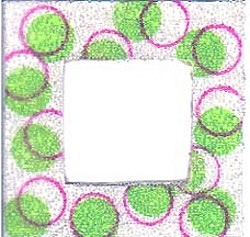 Janeen
Amy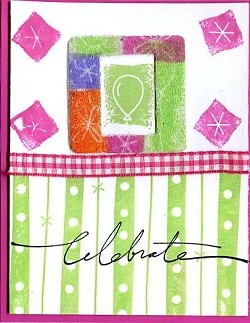 Vanessa
Sharon