Beaded Shoe Cards
By Debby McGilvray

Supply List:
Beaded Shoe/Boot Template [HERE]
O'So Sticky Sheet
Clear Micro Mini Beads
1 sheet of Cardstock
scrap of brownish color CS for heel
7 brads
gold paint pen or leafing pen or a marker to match cardstock
Chalks or watercolor pencils to color in image
Blender pens ( optional) used with watercolor pencils
Stamp Set of Choice
Background Stamp of Choice
Ink Pad in color of Cardstock for background
Black or a Brown color for image stamping
Scissors

Directions:

Step 1:
Cut out Pattern on cardstock and fold in half to make card.

Step 2:
Place the top cut out piece over top - ink up background stamp. Stamp image on lower half of boot.

Step 3:
Trace around heel of boot onto cardstock in close to cocoa. Add to heel of boot.

Step 4:
Stamp image in upper half of boot area to be beaded or glittered.

Step 5:
Cut top half of boot out on clear sticky sheet tape. Hint: Cut a little larger so you can trim off some incase you don't get it even. Peel off back and place on upper half of boot.

Step 6:
Mark around sticker area for seam, I did mine in gold paint pen. Then with a long reach punch punch just below the seam mark for brads. You will punch approx a thumb width apart. I ended up using 7 brads.

Step 7:
Peel off top of sticker sheet tape & add clear beads or clear glitter.

Step 8:
Add brads to punched holes and your done.

Optional:
If you don't want the brads showing on the inside cut out another boot single one and glue or tape to inside. These turn out cute and fit in a larger envelope than our normal size envelope. My card finished measures 5" high by 6" wide.

Examples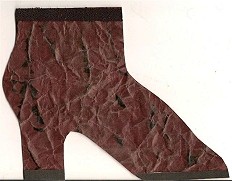 Marianne Colschen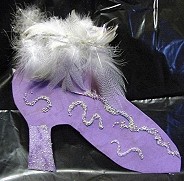 Jane Marchand
Kathi Hall
Stephanie Loomis
Diane Raschal
Julie Outericky