Beaded Lace Frames
By Julie

Supply List:
O'So Sticky Tape
(Any width will do. I prefer the 1/4" for small frames and the 1/2" for 3x5 and up! You could cut your sheets into strips if you don't have the rolls on hand!)
Glass Micro Beads
(Any colors, any combination or just plain clear, they all work wonderfully! You might want to coordinate these with the colors in the photo you plan to frame!)
Picture Frame
(Pick a size to suit you - They even have key chains!)
A piece of lace, the size of your frame or larger
Metallic Pen (optional)

Directions:

Step 1:
I put the O'So Sticky Tape around the frame and then covered it with a big piece of lace and smooshed in the brown beads. Then I removed the lace fabric and smooshed in the gold beads.

Step 2:
Using glue dots I applied gold dragonfly charms on top.

Note:
I chose brown and gold beads because I wasn't sure how much of the wood would show through and I wanted complimentary colors. I went over the inside and outside side edges of the frame with gold metallic pen to further cover the wood.



Examples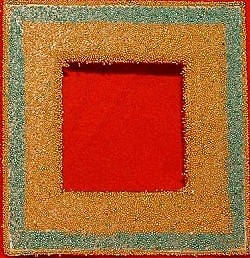 Shelli
Georgia
Suzanne
Lisa